COMMENT: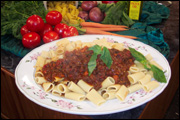 St. Patrick's Day and the making of St. Joseph's Altars always fall very close together, so we have constructed a dish that honors both of these occasions. We have put together a traditional Irish lamb stew on top of rigatoni in honor of the Italian roots of the St. Joseph's Altar.
INGREDIENTS:
1 pound boneless lamb shoulder, cut into ¾-inch cubes
¼ cup extra virgin olive oil
¼ pound bacon, chopped
1½ cups diced onions
¾ cup diced red bell pepper
¼ cup minced garlic
¾ cup dry red wine
1 (28 ounce) can diced tomatoes
1 cup chicken stock or broth
1 cup diced carrots
1 bay leaf
½ tsp crushed red pepper
2 tbsps chopped fresh basil
¼ cup green onions
¼ cup chopped parsley
salt and pepper to taste
1 pound rigatoni pasta, cooked
Parmesan or Romano cheese for garnish

METHOD:
In a 5-quart cast iron Dutch oven, heat olive oil over medium-high heat. Add the bacon and stir until fat is rendered. Add the lamb and cook, stirring occasionally, until the meat is browned well, approximately 15 minutes. Add the onions, red bell pepper and garlic and cook over moderate heat, stirring occasionally until softened, about 5-10 minutes. Deglaze the pan with the red wine and simmer until evaporated, scraping up any browned bits from the bottom of the casserole. Add the tomatoes, chicken stock, carrots, bay leaf, crushed red pepper and basil. Bring to a rolling boil, reduce to simmer and cover. Stir occasionally until the lamb is very tender, 1½ to 2 hours. Additional stock may be needed to retain liquid. Season to taste using salt and pepper. Add green onions and parsley and blend well. Discard the bay leaf. Serve the stew over cooked rigatoni and garnish with Parmesan or Romano cheese.