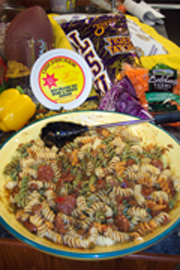 COMMENT:
Jambalaya is one of the oldest rice dishes in Louisiana. The dish traces its roots back to paella, that great Mediterranean rice dish. With the heavy Italian influence in South Louisiana, it is quite easy to understand how the ingredients of seafood jambalaya made their way onto the pasta platter.
INGREDIENTS:
2 dozen (21-25 count) shrimp, peeled and deveined
1 pound cooked crawfish tails
1 pound jumbo lump crabmeat
12 ounces uncooked Penne pasta
1/4 cup olive oil
1/2 cup diced onions
1/4 cup diced red bell pepper
1/4 cup diced yellow bell pepper
1/4 cup garlic, minced
3/4 cup julienned andouille sausage
1/2 cup diced Creole tomatoes
2 tbsps flour
1 quart shellfish stock
1 tbsp chopped fresh thyme
2 tbsps chopped fresh basil
1/4 cup chopped green onions
Salt and black pepper to taste
Creole seasoning to taste
12 whole mussels
6 (21-25 count) shrimp, head-on
METHOD:
In a large cast iron dutch oven, heat olive oil over medium-high heat. Add onions, bell peppers, garlic and andouille sausage. Saute 3-5 minutes or until vegetables are wilted. Add tomatoes and blend well into the vegetable mixture. Sprinkle in flour and, using a wire whisk, stir constantly until white roux is achieved. Add shellfish stock, 1 ladle at a time, until all has been incorporated. Add thyme, basil and season to taste using salt, pepper and Creole seasoning. Bring mixture to a rolling boil, reduce to simmer and cook 5 minutes. Add peeled shrimp, crawfish and lump crabmeat. Gently blend seafoods into the simmering liquid. Add green onions then fold in pasta. Reduce heat to low, cover and cook pastalaya 20-25 minutes or until pasta is al dente and liquid has been absorbed. Prior to serving, line mussels and head-on shrimp across the top of the pasta, cover pot and cook until mussels open and shrimp are pink and curled, approximately 7-10 minutes. When ready to serve, transfer pasta to a decorative platter and arrange mussels and head-on shrimp across the top as garnishes.