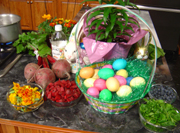 Comment: Comment:
This Easter try a new technique for dyeing eggs. This unique method lets you experiment with natural ingredients. The kids will have a ball inventing new colors.
Use 4 cups of each ingredient per quart of water to create the desired color. Theses amounts will color approximately 6 eggs.

Crimson: fresh beets
Copper: yellow onion skins
Green: spinach, fresh or frozen
Yellow: marigolds
Blue: crushed blueberries
Directions:
In a large pot, place 6-8 eggs in a single layer. Add enough water to cover eggs by 1 inch. Add 2 tablespoons of white vinegar per quart of water. Add dye ingredients and bring to a boil. Turn heat to low and simmer for 10 minutes. Let eggs sit in the dye for approximately 10 minutes or until the desired color is achieved. Dry eggs on paper towels or in egg cartons. When the eggs are dried, rub the eggs with vegetable oil for a glossy shine.
Proper Egg Handling Procedures
To avoid bacterial contamination, wash your hands thoroughly before you handle the eggs and in between every step, including cooking, cooling and dyeing.
Discard any eggs that crack during dyeing or any eggs that have been out of refrigeration for more than 2 hours.
If you are hiding eggs, avoid areas where the egg might come in contact with dirt, pets, birds, reptiles, insects or lawn chemicals.
Refrigerate the hidden eggs after they have been found.