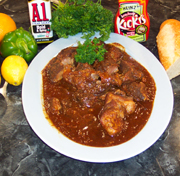 Comment: Slow cooking these ribs makes them ideal for the working mother. She can put them in the crock-pot before heading to work, and by the time she returns home, the ribs will be perfect. They are so juicy and tender that every one will think she was in the kitchen all day.
Ingredients:

4 pounds boneless country-style pork ribs
salt and black pepper to taste
granulated garlic to taste
1 cup diced onions
1/3 cup diced green bell peppers
1 cup light brown sugar, firmly packed
1 cup apple butter
1 cup Heinz Kick'r Ketchup
½ cup lemon juice
½ cup orange juice
2 tbsps A1 Bold and Spicy steak sauce
1 tbsp minced garlic
2 tbsps Jack Daniels whiskey
1 tsp Worcestershire sauce
2 tsps salt
2 tsps black pepper
Creole seasoning to taste
Method:
Season ribs liberally with salt, black pepper and granulated garlic. In a medium bowl, blend onions, bell peppers, brown sugar, apple butter, ketchup, lemon juice, orange juice, steak sauce, minced garlic, whiskey, Worcestershire, salt, pepper and Creole seasoning to taste. Pour half of sauce mixture into a 5-quart slow cooker. Add ribs and remaining sauce. Cover and cook on high for 7 hours. If desired, a thicker sauce can be achieved by removing ribs from sauce and pouring it into a saucepan. Boil until it reaches desired consistency. Serve sauce over ribs.