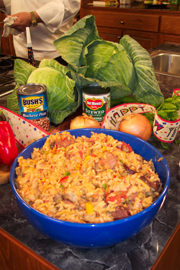 Comment: This delectable dish is perfect for your New Year's celebration because it includes the two traditional ingredients: black-eyed peas and cabbage. The tradition states that black-eyed peas bring good luck and cabbage brings financial good fortune.
Ingredients:
2 tbsp vegetable oil
1 pound cubed ham
1 pound sliced smoked sausage
1 cup diced onions
½ cup diced celery
½ cup diced bell peppers
1 tbsp minced garlic
1 medium head cabbage, chopped
1 (14.5-ounce) can stewed tomatoes
1 (15.8-ounce) can black-eyed peas
1 cup uncooked white long grain rice
1 cup water
Creole seasoning to taste
salt and pepper to taste
Method:
In a 5-quart Dutch oven heat oil over medium-high heat. Add ham, sausage, onions, celery, bell peppers and garlic. Stirring often, cook 5-10 minutes or until ham and sausage are browned. This browning process gives the finished dish its golden-brown color. Add cabbage, tomatoes, black-eyed peas, rice and water. Stir until well combined. Season with Creole seasoning, salt and pepper. Cover and cook, stirring occasionally for 35-40 minutes or until rice is tender.