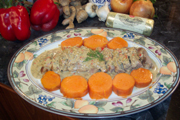 Comment: The big trend in weight loss right now is low-carbohydrate diets. During this healthy eating month, a low carb recipe is a perfect dish. With a lot of people making New Year's resolutions to lose weight, we thought we would help out a little bit. This pork tenderloin is low in carbs (only 5 grams per serving) and high in flavor. This entrée will fill you up and leave you extremely satisfied.
Ingredients:
1 (1 pound) whole pork tenderloin cut into 2 (5-inch) sections
2 tbsps Creole mustard
2 tbsps butter
2 tbsps minced onions
2 tbsps minced celery
2 tbsps minced red bell peppers
1 tbsp minced garlic
1 cup reduced sodium chicken broth
½ cup sour cream
salt and black pepper to taste
minced fresh dill for garnish
Method:
In a heavy skillet, melt butter over medium-high heat. Add pork and cook 5 minutes on each side until browned. Remove pork from skillet, cover and keep warm. Add onions, celery, bell peppers, and garlic to skillet and cook for about 30 seconds. Add chicken broth and blend in vegetables well. Simmer liquid 2-3 minutes to reduce. Remove skillet from heat and slowly whisk in sour cream and mustard. Return pork to skillet along with any juices that have accumulated. Cook pork over medium-low heat for 2-3 additional minutes. Transfer pork to a platter and pour sauce over the meat. Sprinkle with salt and pepper and minced dill. Serve immediately.