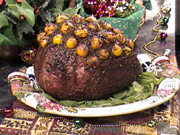 Comment:
This is a wonderful recipe to create your own special holiday ham. It is quite simple to accomplish, but I guarantee you will receive rave reviews with this dish. Try adding a few of your own secret spices.

Ingredients for boiling:
1 (5-10 pound) smoked ham
6 bottles root beer (high quality)
12 kumquats, halved
½ tsp cloves
cracked black pepper to taste
1 tsp filé (ground sassafras)
Method for boiling ham:
Place ham in a cast iron pot or heavy-bottomed Dutch oven. Surround with kumquats and cloves. Add root beer and dust with cracked black pepper and filé. Bring to a rolling boil and reduce to simmer. Boil approximately 1 hour, turn ham over and continue boiling until root beer is reduced to a thick syrup. Remove ham and set aside. Continue to reduce syrup until it is the consistency of molasses. CAUTION: Do not scorch. Remove root beer syrup and place in a mixing bowl. Allow to cool and reserve for use in the glaze.
Ingredients for glaze:
½ cup root beer syrup (reserved)
1 cup Creole mustard
½ cup brown sugar
½ cup Steen's Cane syrup
¼ cup pineapple juice
¼ cup cracked black pepper
pinch of cinnamon
pinch of nutmeg
pinch of allspice
pinch of ground clove
kumquat halves, optional
Method:
Preheat oven to 350ºF. In a mixing bowl, combine syrup, mustard, sugar, cane syrup and pineapple juice. Whisk all spices into the mustard mixture until well blended. Place ham in center of a Dutch oven and coat completely with the mustard mixture. Bake uncovered for 1 hour. NOTE: Before baking, you may wish to decorate the ham for the table centerpiece. If so, use a sharp paring knife to cut slits 1/8-inch deep diagonally across the ham. Continue in the same pattern from the opposite side until diamond shapes appear from the cuts. Stud with a clove at the point of each diamond and, using toothpicks, secure kumquat halves to the top of the ham.