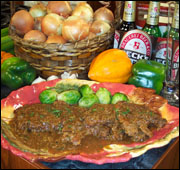 COMMENT:
Oktoberfest began in 1810 when King Joseph Maximilian the First of Bavaria decided to celebrate his marriage to princess Theresa of Saxony in royal style. He was to have a grand race in a beautiful meadow that he named for his new bride. Originally it was meant to be an elegant celebration, but with flowing beer and the cheerful and joyful Bavarian character, it quickly became the party to end all parties. Here in America we continue the tradition of this German holiday with good food, cold beer and great fun.
INGREDIENTS:
4 pork chops

3 cups sliced onions

½ cup flour

2 tbsps vegetable oil

½ cup diced celery

¼ cup diced green bell peppers

1 tbsp minced garlic

1 cup room temperature German beer (i.e., Beck's Dark)

1½ cups hot beef broth

salt and black pepper to taste

METHOD:
Season pork chops with salt and pepper. Dredge chops in flour, shaking off any excess. Reserve 2 tbsps of flour. Heat oil in a large skillet over medium-high heat. Fry pork chops 3 minutes on each side. Remove chops from skillet and set aside. Sauté onions, celery, bell pepper and garlic for 5 minutes. Add reserved flour and stir into vegetable mixture. Pour in beer and beef stock. Return chops to the skillet, reduce heat to medium, cover and simmer for 1 hour or until chops are tender. Season with salt and pepper to taste. Serve with your favorite German side dishes such as potato salad, boiled potatoes, cabbage or Brussels sprouts.