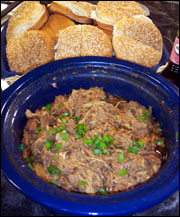 COMMENT:
This sandwich filling is so easy, it can be made while you are asleep or at work. How? It is made in a crock pot or slow cooker. You just mix all the ingredients together and turn on the cooker. When you get home, supper's ready.
INGREDIENTS:
4 pounds boneless pork sirloin or shoulder roast

1½ cups ketchup

½ cup packed brown sugar

¼ cup red wine vinegar

2 tbsps Dijon mustard

2 tbsps Worcestershire sauce

1 tsp liquid smoke

½ tsp salt

¼ tsp ground black pepper

¼ tsp garlic powder

METHOD:
In a large bowl, combine ketchup, brown sugar, red wine vinegar, Dijon mustard, Worcestershire sauce and liquid smoke. Stir in salt, pepper and garlic powder. Place roast in a 4.5-quart or larger slow cooker. Pour ketchup mixture over roast. Cover and cook on low for 8–10 hours. Before serving, remove meat from cooker and shred with a fork. Return to cooker and stir to coat evenly with sauce. Serve on toasted rolls or buns and top with additional sauce.
Note: You can make this same recipe even easier by using a bottle of your favorite barbeque sauce rather than this homemade sauce. You can also make this recipe with beef instead of pork.