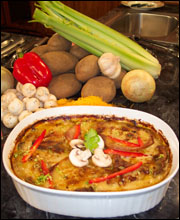 COMMENT:
We have taken meat and potatoes to the next level with this dish. Sautéed pork chops are combined with creamy potatoes full of cheese, mushrooms and roasted red bell pepper strips to create a one-dish dinner that everyone will love. As an alternative, omit the cheese and have pork chops and scalloped potatoes instead.
INGREDIENTS:
6 thick pork chops, bone-in or boneless

6 cups thinly sliced potatoes

3 tbsps butter

¼ cup minced onion

3 tbsps minced celery

2 tbsps minced red bell pepper

1 tbsps minced garlic

1½ tsps salt

¼ tsp ground black pepper

3 tbsps flour

1 (14.5-ounce) can chicken broth

1 cup cheddar cheese, shredded

½ cup heavy whipping cream

2 cups mushrooms

½ cup roasted red bell peppers, sliced


METHOD:
Preheat oven to 350°F. In a small saucepan, melt butter over medium heat. Sauté onion, celery, bell pepper and garlic until softened, about 3-5 minutes. Add salt, pepper and flour. Pour in the chicken broth slowly while whisking constantly. Stir until mixture comes to a boil. Add cheese and cream and stir until cheese is completely melted. In a skillet, heat oil over medium-high heat and brown pork chops on each side for 2-3 minutes. Spray a 2½-quart casserole dish with vegetable spray and place a third of the potatoes on the bottom of the dish. Place half of the mushrooms and red bell peppers evenly over the potatoes. Add another third of the potatoes and place the remaining mushrooms and peppers evenly on top. Add the remaining potatoes and pour the cheese mixture over the potatoes to completely cover them. Add the browned chops on top of the potatoes, cover the dish with glass cover or aluminum foil and bake for 1 hour. Uncover and bake an additional 30 minutes. You may exclude the mushrooms and peppers if you prefer. Change the dish up and serve it with chicken instead of pork. It's all up to you!