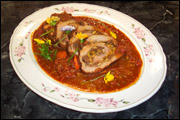 COMMENT:
Braciolini comes from braciola–"bra-gole"– the Italian name for roulade. The Italians moved up river from New Orleans in the late 1800s, when jobs were discovered on the sugar plantations. Many of these Italian families later opened grocery stores, vegetable stands and meat markets. Their greatest contribution, however, was to the cuisine of America. This classic recipe is an example of that contribution.
INGREDIENTS:
1 pork loin, trimmed of most fat
2 tbsps vegetable oil
½ cup diced onions
½ cup diced celery
¼ cup minced garlic
¼ cup chopped green onions
½ cup sliced pimento olives
¼ cup grated Parmesan cheese
¼ cup grated Romano cheese
¼ cup pine nuts
¼ cup golden raisins
1 pound Italian sausage, cut out of casing
½ cup seasoned Italian breadcrumbs
¼ cup extra virgin olive oil
1 cup diced onions
1 cup diced celery
1 cup diced bell pepper
¼ cup minced garlic
1 cup sliced carrots
1 (35-ounce) can Italian plum tomatoes, chopped
1 cup dry red wine
1 (8-ounce) can tomato sauce
1 quart chicken stock
salt, cracked black pepper and granulated garlic to taste

METHOD:
Place pork loin on a cutting board. Butterfly pork loin, splitting lengthwise just far enough so that the meat opens up into one flat piece, which will be about 1 inch thick, 8 inches wide and 14 inches long. Season the meat generously using salt, pepper and granulated garlic. In a small sauté pan, heat vegetable oil over medium-high heat. Sauté onions, celery, garlic and olives. Sprinkle sautéed vegetables, green onions, cheeses, pine nuts and raisins over the butterflied loin. Press sausage over the vegetable mixture in an even layer. Roll the loin in a jellyroll fashion and secure with butcher's twine to keep intact during the cooking process. In a large heavy-bottomed dutch oven, heat olive oil over medium-high heat. Brown loin well on all sides, turning occasionally. Add onions, celery, bell pepper, garlic, carrots, tomatoes, red wine, tomato sauce and 2 cups chicken stock. Bring mixture to a rolling boil, reduce to simmer, cover and cook approximately 1 - 1½ hours. Additional chicken stock may be added as needed to retain volume. Once the meat is tender, season the sauce to taste using salt and pepper. If sauce tends to be a bit watery, you may remove the meat to a serving platter and reduce the sauce over medium-high heat until proper consistency is achieved. When ready to serve, slice loin into portions and top with tomato sauce.