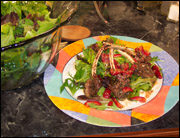 COMMENT:
Any type of meat will be greatly enhanced by adding herbs. In this dish, I have simply combined lamb and herbs to create a nicely seasoned meat that is presented in a fun way. I have Frenched (scraped all of the the meat off of the bone) the lamb chops so that it can be eaten with your hands, hence the name Lollipops.
INGREDIENTS:
1 rack of lamb, Frenched
¼ cup fresh herbs (tarragon, thyme, basil), mixed and chopped
1½ cups rice flour
salt, pepper and granulated garlic to taste
¼ cup oil

METHOD:
Cut the rack of lamb into chops. Season with salt, pepper and granulated garlic. Pat chopped herbs onto both sides of each chop using all of the herbs. Dredge each chop into the rice flour. In a medium skillet, heat the oil over medium-high heat. Sauté each chop until nicely browned, approximately 5 minutes per side. I recommend serving this with my Mixed Greens with Warm Ponchatula Strawberry Vinaigrette.