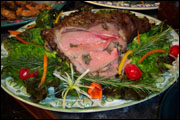 COMMENT:
Lamb has always been considered a spring dish. It was eaten most often by the English who settled in the Felicianas, north of St. Francisville. However, it has become an Easter tradition throughout Cajun country. A young spring lamb is the perfect size for this dish.
INGREDIENTS:
1 (8-pound) leg of lamb, bone in
1/2 cup olive oil
1/3 cup lemon juice
1/2 cup garlic, minced
2 tbsps rubbed sage
2 tbsps fresh rosemary, chopped
2 tbsps fresh thyme leaves
4 fresh bay leaves
8-10 sprigs fresh rosemary
1/2 cup dry red wine
salt and black pepper to taste
Creole seasoning to taste
METHOD:
Have your butcher trim most of the fat from the leg. Pre-heat oven to 350 degrees F. Place the lamb in a large baking pan and rub with olive oil and lemon juice. Using a paring knife, make 8-10 (1-inch) slits on top of the lamb and stuff generously with salt, pepper, 1/4 cup garlic and 2 tbsps sage. Season the outside of the roast thoroughly with salt, pepper, Creole seasoning, 2 tbsps chopped rosemary, 2 tbsps thyme leaves and remaining garlic. Place the 4 bay leaves in the bottom of the roasting pan and insert 8-10 sprigs of rosemary into each of the seasoned slits. Place lamb in oven and roast 11-13 minutes per pound or until internal temperature reaches 150 degrees F for medium. Remove pan from oven, remove lamb from pan and keep warm. Allow lamb to rest 30 minutes prior to slicing. Place baking pan on stove top over medium heat. Remove as much fat as possible from the pan, retaining the drippings. Deglaze with 1/2 cup red wine, scraping all particles from the bottom of the pan and reduce the liquid by half. Strain sauce through a fine sieve and serve alongside the lamb.