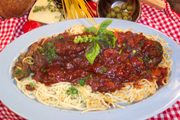 Comment:
The Italians moved upriver from New Orleans in the late 1800s to work on sugar plantations. Many of these Italian families later opened grocery stores, vegetable stands and meat markets. Italian cooking was an important influence on shaping the cuisine of America.
Ingredients for Seasoning:
2 large round steaks
salt and cracked black pepper to taste
1 cup bulk Italian sausage
½ cup diced onions
½ cup diced celery
¼ cup minced garlic
¼ cup sliced green onions
½ cup sliced pimento olives
½ cup grated Parmesan cheese
¼ cup pine nuts
¼ cup golden raisins
½ cup Italian bread crumbs
2 boiled eggs diced

Method:
Place 1 round steak between 2 large sheets of wax paper and gently pound with a mallet to flatten and tenderize meat. Repeat with second steak. Place steaks on a large work surface and overlap them by 2–3 inches to form a large rectangle. The 2 pieces combined should be approximately 1 foot wide. Season meat with salt and pepper. Press Italian sausage over meat. NOTE: If bulk sausage cannot be found, simply cut the casing off of the links and mix together well. Spread remaining ingredients evenly over steaks. Roll meat in jellyroll fashion and secure with butcher's twine or toothpicks to keep intact during cooking process.
Ingredients for Cooking:
¼ cup extra virgin olive oil
1 cup diced onions
1 cup diced celery
1 cup diced bell peppers
¼ cup minced garlic
1 cup sliced carrots
1 (35-ounce) can Italian plum tomatoes, chopped
1 cup dry red wine
1 (8-ounce) can tomato sauce
1 quart chicken stock
Louisiana hot sauce to taste

Method:
In a large heavy-bottomed Dutch oven, heat olive oil over medium-high heat. Brown steak well on all sides, turning occasionally. Add remaining ingredients and 2 cups chicken stock. Bring mixture to a rolling boil then reduce to simmer. Cover and cook 1½ hours. Chicken stock may be added as needed to retain volume. Once meat is tender, season sauce with salt, pepper and hot sauce. If sauce is watery, remove meat to a serving platter and reduce sauce over medium-high heat until proper consistency is achieved. When ready to serve, slice braciolini into 6 portions and top with tomato sauce.