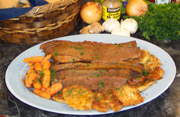 Comment: Man, I've been dying for a beef brisket sandwich all day! This delicious and tender brisket is fantastic on a sandwich or eaten alone. It takes a little time and patience, but it is well worth the effort.
Ingredients:
1 (6-7 pound) beef brisket, rinsed and patted dry
2 cups celery, roughly chopped
1 onion, roughly chopped
1 (3-inch) piece ginger, peeled and roughly chopped
½ cup chopped garlic
¼ cup Creole mustard
½ cup dry red wine
1 (12-ounce) can Coca-Cola
1 cup ketchup
¼ cup honey
¼ cup cider vinegar
¼ cup soy sauce
½ cup olive oil
¼ tsp ground cloves
2 tsps coarsely ground black pepper
1 tsp crushed red pepper flakes
salt and black pepper to taste
½ tsp ground cumin
½ tsp ground chili powder
Method:
Preheat oven to 350°F. Add all ingredients except the brisket to a food processor. Process until all ingredients are smooth. Season the brisket lightly with salt and black pepper. Place brisket fat side up in a large heavy bottom-baking pan and pour puréed ingredients on top. Cover the pan tightly with aluminum foil and cook 2½ hours. Turn brisket over and bake covered for an additional hour or until fork tender. Uncover and allow to brown 15-20 minutes. Remove brisket from the sauce. Strain the sauce into a separate bowl. Allow brisket and sauce to cool then refrigerate overnight. Preheat oven to 350°F. Transfer the brisket to a cutting board and remove the fat. Slice brisket against the grain with a sharp knife. Skim the fat from the top of sauce. Transfer sauce to a pot, bring to a boil then season with salt, pepper, cumin and chili powder. Return sliced meat to the baking pan and cover with sauce. Warm brisket in 325°F oven for approximately 1 hour or until thoroughly heated. Serve thinly sliced on hot French bread.