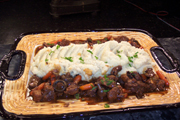 Comment: This traditional French dish is the perfect meal for a cold, wet Louisiana day. It can definitely be made ahead of time and doesn't require a lot of attention once it's simmering. Normally, it would only contain beef, but we've added pork for an extra layer of flavor.
Ingredients:
2 pounds beef chuck roast, trimmed and cut into 1-inch cubes
2 pounds pork Boston Butt roast, trimmed and cut into 1-inch cubes
¼ pound thick cut bacon, cut into ½-inch pieces
¼ cup olive oil
½ cup flour
12 pearl onions, peeled
2 cups peeled baby carrots
2 cups celery, sliced ½ inch thick
¼ cup slivered garlic
2 cups whole button mushrooms
½ cup brandy
2 cups dry red wine (preferably Burgundy)
4 cups low-sodium canned beef broth
1½ tsp tomato paste
2 bay leaves
4 sprigs thyme
¼ cup chopped parsley
1 tbsp chopped thyme
salt and black pepper
Method:
Season beef and pork well with salt and black pepper. Dredge in flour, shaking off excess. In a heavy Dutch oven over medium heat, sauté bacon in olive oil until lightly browned and beginning to crisp. Remove from pot and set on paper towels. Brown meat well in bacon fat in batches, being careful not to burn. When all meat is browned, add onions, carrots, celery, garlic and mushrooms. Cook 8-10 minutes or until vegetables are caramelized. Deglaze with brandy, scraping all brown bits from bottom of pan. Add wine, broth, tomato paste, bay leaves, sprigs of thyme and reserved chopped bacon and bring to a boil. Reduce heat to simmer, cover and cook slowly for 2½-3 hours, or until meat is very tender. Add chopped parsley and thyme and adjust seasoning with salt and black pepper. Serve hot with crusty French bread.