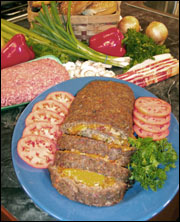 COMMENT: This recipe is especially great for picky kids. When the kids are tired of Mom's same old meatloaf, try this tasty, juicy variation. This rolled meatloaf is filled with bacon and cheese, which is sure to make any kid smile.
INGREDIENTS:
2 pounds ground beef

½ cup Italian bread crumbs

¼ cup minced onions

¼ cup minced celery

2 tbsps minced green bell peppers

2 tbsps minced red bell peppers

1 tbsp minced garlic

2 tbsps sliced green onions

2 tbsps chopped parsley

2 eggs

1½ tsps salt

1½ tsps black pepper

2 cups shredded Cheddar cheese

½ cup bacon, cooked and crumbled

METHOD:
Preheat oven to 350°F. In a large mixing bowl, combine beef, bread crumbs, onions, celery, bell peppers, garlic, green onions, parsley, eggs, salt and pepper. Mix well. On a piece of wax paper, shape meat mixture into a ½-inch thick rectangle. Spread cheese over the meat, leaving a ¾-inch border around the edges. Sprinkle bacon over cheese. Roll the meat in a jellyroll fashion to enclose the filling and form a pinwheel loaf. Press both ends to enclose the cheese. Place in a 10" x 15" baking dish and bake for 1 hour or until internal temperature reaches 160°F. Once baked, sprinkle with additional cheese or ketchup and mustard. Any leftovers make great sandwiches for the next day.