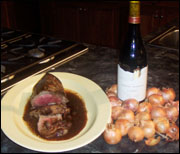 COMMENT: Beef tenderloin is the richest and most tender cut of meat you can buy. We have dressed up this exquisite piece of meat with fresh thyme and caramelized shallots in a rich red wine sauce to push this dish over the edge of decadence.
INGREDIENTS:
1 (6-pound) beef tenderloin, trimmed

1 pound shallots, peeled and halved lengthwise

1 cup Pinot Noir wine

2 tbsps olive oil

¾ tsp salt

½ tsp pepper

1 tbsp salt

1½ tsps granulated onion

1½ tsps granulated garlic

1½ tsps pepper

1½ tsps chopped fresh thyme leaves

¼ cup olive oil

3 cups beef broth

2 tbsps all-purpose flour

3 tbsps water

3 tbsps butter

¼ tsp pepper

METHOD:
Preheat oven to 500 degrees F. Toss shallots and 2 tbsps oil in a bowl; stir in ¾ tsp salt and ½ tsp pepper. Set aside. Stir together 1 tbsp salt, onion powder, garlic powder, 1½ tsps pepper and thyme. Rub tenderloin with ¼ cup olive oil. Sprinkle seasoning mix over top and sides of tenderloin, rubbing to cover the entire loin. Place loin in a large greased roasting pan; arrange shallots around the loin. Bake uncovered for 20 minutes. Use meat thermometer inserted into thickest part of the loin, the loin is done when it reads 130 degrees F for medium rare or 145 degrees F for medium. Meanwhile, in a large skillet, stir together beef broth and Pinot Noir. Bring to a rolling boil and hold at a boil for 6-8 minutes or until liquid is reduced to 2 cups. Remove tenderloin to a serving platter and cover with aluminum foil; reserve shallots and drippings in pan. Add wine mixture to pan, and place over medium heat, stirring to release the browned bits from the bottom of the pan. In a small bowl, whisk together flour and water until smooth, then stir into the sauce in the roasting pan. Cook over medium heat, stirring constantly, until slightly thickened. Add butter, stirring just until melted. Stir in ¼ tsp pepper. Thinly slice roast and serve with shallot sauce. Garnish with whole sprigs of fresh thyme.