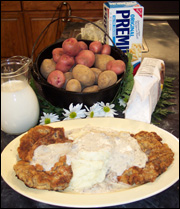 COMMENT: This dish can be found on any home-style diner menu. The saltine crackers in the crust give the coating a little extra crunch, and the gravy is absolutely sinful. In the South, chicken-fried steak, also referred to as country-fried steak, is the ultimate comfort food.

INGREDIENTS FOR STEAK:
4 (6-8 ounce) cube steaks or round steaks, tenderized
2 cups crushed saltine crackers
1 cup flour
½ tsp baking powder
¾ cup milk
2 eggs
1 cup peanut oil
salt, black and cayenne pepper to taste

METHOD FOR STEAK:
In a medium bowl, combine cracker crumbs, flour, baking powder, and season to taste using salt and peppers. In a separate bowl, whisk together milk and eggs. Set aside. In 12-inch cast iron skillet, heat ½ cup oil over medium-high heat. Season steaks lightly using salt and peppers. Dredge seasoned steaks into the flour mixture; dip into egg wash and then dredge in flour mixture again. Fry one steak at a time in hot oil for 5-7 minutes on one side, turn and continue to fry 4-5 minutes or until golden brown. Remove steak to an oven-safe pan to keep warm. Continue to fry steaks one at a time using the same procedure, adding oil as necessary until all are done. Keep steaks warm in a low oven until ready to serve. Carefully drain hot oil, reserving cooked bits and 1 tbsp of drippings in skillet to begin gravy.
INGREDIENTS FOR WHITE GRAVY:
3 cups whole milk
1 cup chicken stock
¼ cup flour
½ tsp salt
½ tsp black pepper
METHOD FOR WHITE GRAVY:
In the same skillet with the pan drippings, heat over medium-high heat. In a mixing bowl, whisk together milk, chicken stock, flour, salt and pepper. Pour mixture into hot skillet, whisking constantly. Cook for 5-10 minutes or until thickened. Season to taste using salt and pepper. Serve a generous portion of gravy over the steaks.