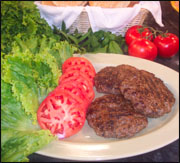 COMMENT:
What makes a great hamburger? First, there's the meat. You want to use a flavorful cut, like sirloin (for uptown burgers) or chuck or round (if you're feeling more democratic). The meat should be ground twice—first through the course plate of the grinder, then through the fine plate, and it shouldn't be too lean. 15-20 percent of fat is ideal.
I adhere to the "less is more" school when it comes to making hamburgers. Namely, the fewer ingredients you add to the meat, the better. Oh, I know how tempting it is for cooks to want to season the meat with onion, garlic, spices and condiments, but to taste a burger at its best, keep it utterly simple. The garnishes will add all the flavor you need.
One final bit of advice: handle the meat as little as possible; anything more will rob the burger of its juiciness and primal flavor.
INGREDIENTS FOR BURGERS:
2¼ pounds ground round, chuck or sirloin
2 tbsps unsalted butter, melted or olive oil
salt and freshly ground black pepper to taste
6 hamburger buns
6 slices (½-inch thick) Vidalia onion or other sweet onion (optional)
INGREDIENTS FOR THE TOPPINGS: (ANY OR ALL)
Iceberg lettuce leaves
sliced, fresh, ripe tomatoes
sliced dill or sweet pickles
cooked bacon, 2 strips per burger
ketchup
mustard
mayonnaise
METHOD:
Preheat the grill to high. Divide meat into 6 equal portions. Lightly wet your hands with cold water, and then form each portion of meat into a round patty, 4 inches across and of even thickness. When ready to cook, oil the grill grate. Brush 1 side of the patties and the onion slices lightly with melted butter and season with salt and pepper. Arrange both the burgers and onion slices butter side down on the hot grate and grill until nicely browned, about 4 minutes. Brush the other side lightly with more melted butter and season with more salt and pepper. Turn with a spatula and continue grilling until nicely browned and cooked to taste, about 4 minutes for medium. Brush the cut sides of the buns with the remaining melted butter and place cut side down, on the grill for the last 2 minutes. Set out toppings. Place the burgers and onion slices on the buns, garnish to your liking and serve.