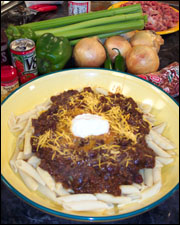 COMMENT:
Chili is one of my favorite dishes. I always have most of the ingredients stored in my pantry or freezer. With a little preparation, the meal simmers for a few hours while I cook something else. What makes this dish even better for working families is that you have a meal for today and several future dinners to stock in the freezer. This recipe comes from my cookbook, "Something Old & Something New."
INGREDIENTS:
6 pounds ground chicken gizzards
1/2 cup vegetable oil
3 large onions, diced
1 cup diced celery
1 cup diced bell peppers
1/4 cup minced garlic
1 (28-ounce) can tomatoes
1 (28-ounce) can V-8 juice
1 cup beef stock or bouillon
3 tbsps liquid smoke
1/2 cup beer
3 tsps cumin
6 ounces chili powder

*

2 tsps paprika
2 tbsps apple spice
6 tbsps ground fennel seed

*

1 tsp cocoa powder
1 tsp salt
black pepper
hot sauce
3 jalapeno peppers, seeded and diced
METHOD:
In a 12-quart cast iron pot, heat oil over medium-high heat. Add ground gizzards and cook until golden brown, stirring occasionally. While meat is browning, place onions, celery, bell peppers and garlic into the bowl of a food processor. Chop until vegetables are almost to a liquid state. When meat is golden brown, add contents of food processor to the pot. Continue to sauté until all vegetables are wilted. Add tomatoes, V-8, beef bouillon, liquid smoke and beer. Blend well into the vegetable mixture, bring to a rolling boil and reduce to simmer. Add cumin, chili powder, paprika, apple spice, fennel and cocoa. Stir well into the tomato liquid. Season lightly using salt, pepper, hot sauce and jalapenos. Reduce heat to simmer and cook 4 hours, stirring often. Naturally, the longer chili cooks, the better it tastes. If you like your chili with beans, feel free to add one can of cooked kidney beans 10 minutes prior to serving. Adjust seasonings if necessary.
*Note: If you prefer a less spicy chili, use half of what is called for, then add more as needed.