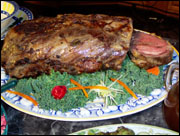 INGREDIENTS:
1 prime rib roast (18 - 22 lbs), oven-ready
4 medium onions, quartered
1/2 bunch celery, sliced
6 cloves of garlic
1 lb carrot, sliced
salt and black pepper to taste
granulated garlic to taste
2 cups red wine
1 quart beef stock
METHOD:
Preheat oven at 400° F. Place roast in large roasting pan with two inch sides. Season to taste using salt, pepper and granulated garlic. You may wish to cut 1 inch slits in the roast with a pairing knife and force a quarter teaspoon of each seasoning into each one of the slits to ensure the meat is flavored internally. Surround the roast with the chopped fresh vegetables and cover the pan tightly with aluminum foil. Place in oven and reduce temperature to 350° F. Cook for 1 1/2 hours and check for doneness. An internal temperature reading of 130° F at the center of the meat will be medium rare, 145° F will be medium, and 155° F will be med-well. Remove the rib roast from oven and set aside on large serving platter. Allow the drippings in the roasting pan to rest for 30 minutes and then slowly tilt pan and remove the grease rising to the surface of the natural drippings. Return the pan to the stove on medium high heat. Once the vegetables begin to sizzle add the red wine to deglaze the pan. Allow the red wine to reduce to 1/2 volume. Add beef stock and continue to boil until flavors have blended well. Then strain the sauce discarding the vegetables and serving along side the roast.