Comment: Instead of a huge roasted turkey this holiday season,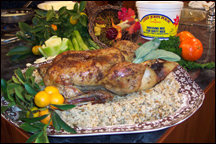 why not try something different? Long Island Ducks can be found in your local supermarket and are great for a small family or a couple to enjoy on Thanksgiving day. We have roasted this duck with Kumquats, giving a slight hint of citrus to the dish.
Ingredients for Marinade:
1 pound butter
8 cloves garlic, sliced
Ingredients for Roasting:
1 (5–6 pound) domestic duck
18 kumquats, halved (or 2 oranges, quartered) with skin on
2 onions, quartered
2 ribs celery, cut into 2-inch pieces
2 carrots, cut into 2-inch pieces
4–5 sage leaves
salt, pepper, granulated garlic and paprika to taste
Method:
Thaw duck completely in the refrigerator for 24 hours or in a sink with cold running water. Do not allow duck to sit at room temperature as this could cause harmful bacteria to grow. Preheat oven to 400°F.
NOTE: You may make your own garlic butter marinade using the method below. You can also use a commercial injectable marinade. In a small skillet, melt half of the butter over medium-high heat. Do not brown. Add sliced garlic and sauté for 2–3 minutes or until golden brown around the edges. Add remaining butter and melt completely. Remove from heat and allow to sit for about 30 minutes. After flavors have infused, reheat butter just until melted and remove garlic slices.
Using a meat-injecting needle, inject the duck with marinade four times in each breast and once in each leg and thigh. Season duck inside and out with salt, pepper, granulated garlic and a small amount of paprika. Fill cavity of the duck with 27 kumquat halves, sage leaves and 1–2 pieces each of onions, celery and carrots. In a large roasting pan, place the remaining onions, celery, carrots and kumquats. Place the duck on top of the vegetables or on a roasting rack. Tie the legs of the duck together using butcher's twine. Cover roasting pan with lid or aluminum foil. If you use foil, do not allow it to touch the skin. Bake for 1½ hours. Remove foil and brown skin for 15–20 additional minutes or until skin is golden brown.