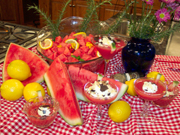 Comment:
This recipe for persimmon pudding was always an anticipated treat on Cabanocey Plantation where I grew up in South Louisiana. My Grandmother, Memere Zeringue, would use the wild native variety for the dish, but I use the Fuyu or the Hachiya from my garden. I recently planted a
Tanenashi Persimmon tree because after tasting the fruit, I thought it was the best yet; but any sweet variety will do fine. Remember, most persimmons are not ripe until they fall from the tree and the astringent varieties always seem sweeter to me when fully ripened.
Ingredients:
1 cup persimmon pulp
1 cup sugar
3 eggs, well beaten
1¼ cups flour
1 tsp baking soda
1 tsp baking powder
½ tsp cinnamon
¼ tsp grated nutmeg
pinch salt
2 tbsps pure vanilla
2 tbsps melted butter
½ cup chopped pecans (optional)
½ cup golden raisins (optional)
Method:
Preheat oven to 325°F. In a large mixing bowl, combine pulp and sugar with beaten eggs and blend well. In a separate bowl, sift together flour, baking soda, baking powder, cinnamon, nutmeg and salt. When sifted, sprinkle dry ingredients into the wet, a little at a time, while whisking with a wire whip. Add vanilla and butter, whisk to incorporate. Fold in pecans and golden raisins as optional garnish. Spray a 9-inch square baking pan with vegetable spry and pour in the batter. Bake 35-45 minutes or until a toothpick comes out clean. Serve warm with a scoop of rich vanilla ice cream or English Cream.