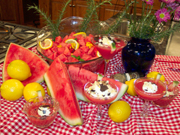 Comment:
Watermelon pudding is a perfect dessert for those long, summer days when the watermelon are so plentiful. Enjoy this with friends after the next barbecue.
Ingredients:
6 cups chopped, seeded watermelon
5 tbsps cornstarch
½ cup sugar
1 tsp anise seeds
2 tsps fresh lemon juice
1/3 cup heavy whipping cream
1 tsp sugar
chopped pecans for garnish
chocolate shavings for garnish

Method:
In a blender, purée watermelon until smooth. Pour through a sieve into a 2-quart saucepan. Discard any remaining solids. Take ¼ cup of puréed watermelon juice and place it in a mixing bowl to combine with cornstarch. Stir until smooth. Boil remaining watermelon purée, ½ cup sugar and anise until sugar dissolves. Whisk cornstarch mixture into boiling watermelon juice, reduce heat and simmer 3 minutes, whisking occasionally. Blend in lemon juice. Pour pudding mixture through a sieve into a bowl. Transfer mixture into a 1-quart serving dish. Chill uncovered for 30 minutes. Cover and chill 3 hours or until set. NOTE: If desired, pudding can be chilled for 1 day. Prior to serving, beat cream with 1 teaspoon sugar in an electric mixer until stiff peaks form. Top with whipped cream, and garnish with chopped pecans and chocolate shavings.