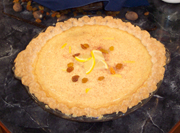 Comment: Lemon buttermilk pie is often a forgotten country recipe. The simplicity of preparation makes this dessert perfect after any meal.
Ingredients:
1½ cups buttermilk
¾ cup golden raisins
4 eggs
¾ cup sugar
2 tbsps flour
¼ cup unsalted butter, melted
grated peel of 1 lemon
3 tbsps lemon juice
¼ tsp salt
¼ tsp cinnamon
¼ tsp nutmeg
1 tsp vanilla
1 (9½-inch) deep-dish pie shell
Method:
Preheat oven to 375°F. Bake pie shell according to package instructions. In a large mixing bowl, beat eggs and sugar until light and lemon-colored. Beat in flour, buttermilk, butter, lemon peel, lemon juice, salt, cinnamon, nutmeg and vanilla. Sprinkle raisins evenly over the bottom of the baked pie shell. Pour custard on top of raisins. Bake pie at 375°F for 30 minutes or until a toothpick inserted into the center comes out clean. Place on a rack to cool.