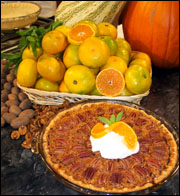 COMMENT:
Signs of fall are everywhere. You can see them in the ripe Satsumas in the trees to the pecans littering the ground. With the sweet, smoky smell of the sugarcane harvest, everyone knows that cool weather and holidays are quickly approaching. This recipe uses the produce of the season to create a delicious pie.
INGREDIENTS:
5 eggs, beaten

1/2 cup sugar

1 1/4 cups Karo Light Corn Syrup

1/4 cup Steen's Cane Syrup

3 tbsp grated satsuma rind

1/3 cup satsuma juice

1 1/4 tbsps all-purpose flour

1/4 tsp salt

1 cup chopped pecans

1 unbaked 9-inch pastry shell

pecan halves

METHOD:
Combine eggs, sugar, syrups, satsuma rind, satsuma juice, flour and salt. Using an electric mixer, beat at medium speed until blended. Stir in chopped pecans then pour mixture into pastry shell. Arrange pecan halves on top of pie. Bake at 350°F for 55-60 minutes. Allow to cool overnight. Slice into eight wedges.