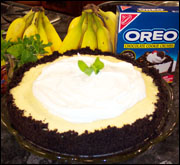 COMMENT:
Almost every Louisiana restaurant has some form of the famous Bananas Foster dessert on their menu. At Lafitte's Landing Restaurant at Bittersweet Plantation, our Bananas Foster soufflé is a perennial favorite. In this dessert we have enrobed the sweet, tender banana with vanilla pastry cream spiked with a shot of dark rum and placed it in a chocolate cookie crust.
INGREDIENTS FOR CRUST:
2½ cups Oreo cookie crumbs

¼ cup sugar

1 tsp cinnamon

5 tbsps melted butter
INGREDIENTS FOR FILLING:
¼ cup unsalted butter

¾ cup packed brown sugar

1 tsp cinnamon

1 tsp ground ginger

½ tsp allspice

4 bananas, peeled and sliced
INGREDIENTS FOR PASTRY CREAM:
3 cups half and half

1 vanilla bean, split in half lengthwise

8 egg yolks

½ cup sugar

¼ cup dark rum

3 tbsps cornstarch

METHOD:
Grease a 10-inch spring form pan. To prepare crust, in a medium bowl, combine cookie crumbs, sugar and cinnamon and mix well. Stir in melted butter. Press mixture into prepared pan on the bottom and up the sides of the pan about 2½ inches and place it in the refrigerator to chill. To prepare the filling, put the butter and brown sugar in a large sauté pan over high heat and heat until bubbling, about 2 minutes. Add cinnamon, ginger, allspice and bananas and sauté until tender, about 3 minutes. Remove the crust from the refrigerator and spoon the bananas evenly over the bottom of the crust. Set aside. To prepare the pastry cream, put the half and half in a saucepan with the vanilla bean and bring to a boil. Reduce heat to medium, remove and discard vanilla bean. In a medium bowl, place egg yolks, sugar, dark rum and cornstarch and whisk together. Whisk about 1 cup of half and half mixture into the egg mixture to temper it. Add the egg mixture to the remaining half and half and place the pan over medium heat, stirring frequently until thick, 3-5 minutes. Pour the mixture over the roasted bananas in the crust and refrigerate for 2-3 hours or until well chilled. To serve, carefully remove the outer ring of the pan, cut the pie into slices, and top each slice with whipped cream and several mint leaves.