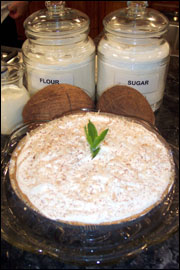 COMMENT:
It is so hot outside in Louisiana this time of year that no one wants to turn on the oven. This cool, refreshing pie tastes great and keeps the oven off, too. All it takes is a couple of minutes on the stove and a couple of hours in the refrigerator, and you stay as cool as a cucumber, or a coconut in this case.
INGREDIENTS:
1 cup flaked coconut

3 cups half and half

2 eggs

¾ cup sugar

½ cup flour

¼ tsp salt

1 tsp vanilla

1 (9-inch) graham cracker pie crust

2 cups whipped topping, thawed

METHOD:
In a small skillet, brown the coconut, stirring and folding constantly so it does not scorch, until it is golden. In a medium saucepan, combine half and half, eggs, sugar, flour and salt. Bring to a boil over low heat, stirring constantly. Remove from heat and stir in coconut and the vanilla, reserving 2 teaspoons of coconut for garnish. Pour into pie shell and chill for 2-4 hours. Before serving, top with whipped topping and garnish with additional toasted coconut.