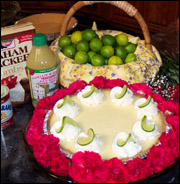 COMMENT: For Mother's Day, give mom a taste of the islands with this tangy, sweet Key Lime Pie. You can use a prepared crust or make your own. With only 4 other ingredients, even the kids can have a great time making this special dessert for mom.
INGREDIENTS FOR CRUST:
1 (9-inch) prepared graham cracker crust

or

1½ cup graham cracker crumbs
3 tbsps sugar
1/3 cup butter or margarine

METHOD FOR CRUST:
Preheat oven to 325 degrees F. If you are using a prepared crust, you do not need to do any part of the method for the crust. Combine crumbs and sugar in medium mixing bowl. Stir in melted butter or margarine until thoroughly blended. Pack mixture firmly into 9-inch pie pan and press firmly to bottom and sides, bringing crumbs evenly up to the rim. Bake in oven for 10 minutes. Allow crust to cool to room temperature before filling.
INGREDIENTS FOR FILLING:
4 egg yolks
1 (14-ounce) can sweetened condensed milk
2 key limes, zested
½ cup key lime juice, bottled or fresh
METHOD FOR FILLING:
In a medium mixing bowl, combine yolks, sweetened condensed milk, key lime zest and juice. Pour mixture into cooled pie crust and bake for 18 minutes or until just set. Place on a rack to cool. Once cooled, refrigerate until chilled. Garnish with whipped cream and key lime twists or lime zest.
To create a lime twist, slice a key lime thinly. Place one slice flat on a cutting surface and cut from the center of the slice through one side. Pull each side of the cut gently in opposite directions to create the twist. Do not tear through the other side of the lime slice.
.