COMMENT: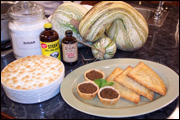 I'm really not sure of the French spelling or even the translation, but most of the old Cajun and Creole cooks referred to the meat of a crooked-neck pumpkin, simmered in sugar and spices as Juirdmon. I first tasted this dish at the hands of Mary Farchaud, the woman who not only cooked for us but instilled in me, my five brothers and two sisters an appreciation for Louisiana's unique culture and cuisine. The green and white striped pumpkin would be chopped into 2-inch squares, the seeds removed and the pumpkin boiled in lightly sugared water. The tender meat was then scraped from the shell and returned to the pot along with butter, sugar and spices to create the dish. This filling could then be placed into a pie shell or made into turnovers. As children we ate it simply from a cereal bowl...hot from the pot.
INGREDIENTS:
1 (9-pound) cushaw
¾ pound butter
2 cups sugar
1 cup dark brown sugar
½ cup Steen's Cane Syrup
1 teaspoon pumpkin pie spice
½ tsp allspice
½ tsp nutmeg
½ tsp ground ginger
½ tsp cinnamon
3 tbsps vanilla
METHOD:
Select a cushaw with a main section approximately the size of a soccer ball. Using a large French knife, chop the cushaw into 2-inch squares. Using a paring knife, scrape or cut away the seeds and stringy matter from each square. Place the cushaw squares in a large pot and cover by two inches with hot water. Add 1 cup of sugar and bring to a rolling boil. Boil the pumpkin approximately 30 minutes or until the pulp is extremely tender, but not mushy. Remove from heat, strain, then chill under cold water. Once pumpkin is cool to the touch, scrape the meat into a large mixing bowl and discard the shell. Cooked meat should equal approximately 4½ pounds. Using a pastry cutter, mash the pumpkin. In a heavy bottom sauce pot, melt butter over medium high heat. Add mashed pumpkin, remaining sugar and cane syrup. Blend well into the pumpkin mixture, then add all remaining spices. Bring to a low simmer and cook 15-20 minutes to blend flavors thoroughly. The pumpkin will be slightly dry so it will be necessary to stir occasionally. When tender and creamy, the pumpkin may be removed and used as a pie filling or eaten as a sweet vegetable side dish.