Pumpkin Soufflé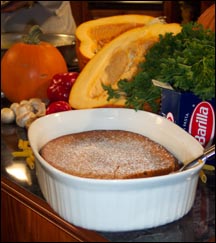 Prep Time: 1 Hour 15 Minutes
Yields: 10–12 Servings
Comment: This delicious pumpkin recipe is a sweet dish that would be a great side at any meal. You can even enjoy this soufflé for a dessert by topping it with powdered sugar or ice cream!

Ingredients:

2 cups pumpkin purée*
1 cup half & half
1 cup sugar
½ cup flour
¾ tsp baking powder
pinch salt
2 eggs
1 tsp vanilla
½ cup butter, melted
cinnamon to taste
Method:
Preheat oven to 350°F. Combine all ingredients and blend well. Pour into a greased 2-quart casserole dish or 9x13 inch glass dish. Bake for 1 hour. Sprinkle with powdered sugar before serving. You may wish to top the soufflé with miniature marshmallows and bake for 10–15 more minutes until marshmallows are slightly browned.
*Pumpkin Purée
You can purchase canned pumpkin or make your own fresh purée using. To make fresh pumpkin purée, cut a large pumpkin in half and remove the stem and seeds. Cut into 2-inch squares. In a large stockpot, place pumpkin squares and cover with water by 2 inches. Bring to a rolling boil and cook 20–30 minutes until pumpkin is completely tender. Drain and cool under cold running water. When completely cooled, scoop pumpkin off of the skin and discard skin. Place cooked pumpkin into a food processor or blender and process until smooth. Any remaining purée can be frozen for up to a year.