Pumpkin Cheesecake Roll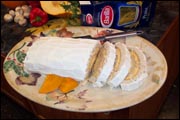 Prep Time: 1 Hour
Yields: 8–10 Servings
Comment:
Everyone loves jellyrolls filled with their favorite preserves. We have taken the traditional jellyroll recipe and added spice to the cake and a pumpkin and cream cheese as the filling, creating a perfect fall treat.

Ingredients for filling:
1 (8-ounce) package of cream cheese
1/3 cup pumpkin puree*
½ cup sugar
pinch of cinnamon
Method:
Allow cream cheese to soften to room temperature then combine with pumpkin, sugar and cinnamon. Blend with a hand mixer or stand mixer about 3 minutes or until fluffy.
Ingredients for cake:
3 eggs
1 cup sugar
¼ cup cold water
1 tbsp vanilla
¾ cup flour
2 tsps baking powder
pinch of salt
¼ tsp cinnamon
1/8 tsp nutmeg
¼ cup powdered sugar
Method:
Preheat oven to 300°F. Line a 15x10? cookie sheet with lightly oiled parchment paper. Make sure to also oil the sides of the pan. In a mixing bowl, cream eggs and sugar with a wire whisk until smooth and fluffy. Add water and vanilla and continue to whip. Blend flour, baking powder, salt, cinnamon and nutmeg into the egg mixture. When well blended, pour mixture onto cookie sheet and spread out evenly. Bake 10–15 minutes, but do not overcook. When done, remove and allow to cool slightly. Place a large dishtowel on the counter and cover with parchment paper. Sprinkle powdered sugar evenly over the paper. After cake has cooled 5–6 minutes, turn out onto the sugared paper. Beginning at the 10-inch end, roll the cake, jellyroll style using the towel and parchment. Allow to sit 10 minutes. Unroll and spread the filling evenly over the cake. Roll again, using the parchment paper as a lifter to ease the process. When set, ice with your favorite cream cheese or vanilla icing and slice with a serrated knife.
*Pumpkin Purée
You can purchase canned pumpkin or make your own fresh purée using. To make fresh pumpkin purée, cut a large pumpkin in half and remove the stem and seeds. Cut into 2-inch squares. In a large stockpot, place pumpkin squares and cover with water by 2 inches. Bring to a rolling boil and cook 20–30 minutes until pumpkin is completely tender. Drain and cool under cold running water. When completely cooled, scoop pumpkin off of the skin and discard skin. Place cooked pumpkin into a food processor or blender and process until smooth. Any remaining purée can be frozen for up to a year.