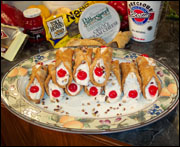 COMMENT:
Coming from bayou country, I was more a fan of pralines than I was cannoli...that is, until I ate cannoli made by Bert Cutino of Monterey, CA. The recipe came from his mother-in-law, and the filling is light and airy with just the right hint of sugar. We have taken this traditional recipe and given it a Creole twist by adding our own Bittersweet Plantation Dairy Creole Cream Cheese. The shells are fried crisp and brown, yet flaky and tender.
INGREDIENTS FOR FILLING:
2 pounds Ricotta cheese

4 (11.5-ounce) containers Bittersweet Plantation Dairy Creole Cream Cheese

2 tsps vanilla

1½ cups powdered sugar

½ tsp nutmeg

¼ cup milk

1 cup semi-sweet chocolate chips

½ cup glazed fruit, optional
METHOD:
Place Ricotta and Creole cream cheese together in a strainer lined with cheesecloth. Allow to drain in the refrigerator overnight. The next day, divide the cheese mixture into three parts. Place one portion of the cheese into a mixer and blend in the vanilla, sugar and nutmeg. Add the two remaining portions, one at a time, with the mixer running. If the mixture gets too thick at any point, add a little milk. When adding the third portion, pour in any remaining milk and add the chocolate chips. Taste for sweetness and add more sugar if necessary. Blend gently so as not to break up the chocolate. If desired, add glazed fruit at this point. Cover and set aside for later use.
INGREDIENTS FOR SHELLS:
6 cups sifted flour

¼ pound softened butter

2 tbsps Crisco

2 tbsps sugar

3 whole eggs

1 cup Marsala wine

¼ cup red wine vinegar

30 maraschino cherries, halved
METHOD:
Have your local hardware store cut a 1-inch dowel pin into 6-inch links. Prior to using, place the dowel pins in your home-style fryer to heat thoroughly and coat with oil. Remove and drain. In a large mixing bowl, combine flour, butter, Crisco and sugar. Blend eggs into mixture. Add wine and vinegar and continue to blend until dough ball is formed. Place dough on a floured surface and knead to a silky finish. Let rest a minimum of 2 hours. Cut the dough into manageable portions. Using a pasta machine, roll to a thickness of approximately 1/8-inch. Using a round pastry cutter, cut the dough into 4-inch circles. Wrap each circle around a dowel and seal the ends using water or egg wash. Fry at 350°F until browned and beginning to blister. Remove from oil and slide the shells off the dowel pins, allowing them to cool. Fill a pastry bag with the Ricotta filling. Fill each shell with the filling and place a cherry half on each end. Sprinkle with powdered sugar and serve.