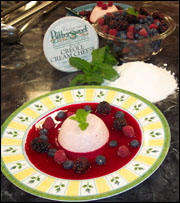 COMMENT:
These eggless custards are a great refreshing dessert for warm spring days. Garnish with a sprig of mint for a creamy dessert everyone is sure to love.
INGREDIENTS FOR PANNA COTTA:
5 tbsps fresh raspberries, puréed and strained
1 (11.5-ounce) package Chef John Folse's Bittersweet Plantation Dairy Creole Cream Cheese
1 cup whole milk
1 cup heavy whipping cream
½ vanilla bean, split lengthwise
3½ tsps unflavored gelatin
½ cup sugar
INGREDIENTS FOR RASPBERRY SAUCE:
3 cups fresh raspberries

½ cup sugar
METHOD:
Lightly oil 6 (1- cup) ramekins or custard cups. Mix milk and cream in a small heavy-bottomed saucepan. Scrape in seeds from vanilla bean; add bean. Bring to simmer. Remove from heat, cover and let steep for 30 minutes. Remove vanilla bean. Stir sugar, gelatin and raspberry purée into milk mixture. Stir over low heat until sugar and gelatin dissolve, about 2 minutes. Remove from heat. Whisk in Creole cream cheese. Divide evenly among ramekins or custard cups. Cover and chill until set, at least 6 hours or overnight.
For sauce, combine ingredients and bend until smooth in a blender. Strain through a fine sieve. Add more sugar if necessary to bring to desired sweetness. To serve panna cotta, run a small knife around each ramekin. Place bottoms of ramekins, 1 at a time, in a small bowl of hot water for 45 seconds. Invert each panna cotta onto a plate or shallow bowl and surround with raspberry sauce. Garnish with whole berries and a sprig of mint.