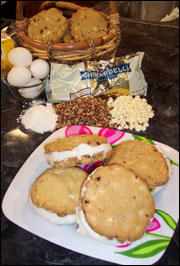 COMMENT: This frozen treat is great for the kids to make at home during those long summer days. Have fun making the cookies, filling them, and then have even more fun eating them.
INGREDIENTS:
2 cups white chocolate chips
1 cup chopped pecans
2/3 cup butter flavored shortening
2/3 cup butter, softened
1 cup white sugar
1 cup packed light brown sugar
2 eggs
1 tbsp vanilla
3½ cups flour
1 tsp baking soda
1 tsp salt
premium vanilla ice cream
METHOD:
Preheat oven to 375 degrees F. In a large bowl, cream together shortening, butter, white sugar and brown sugar until smooth. Beat in eggs one at a time, then stir in vanilla. Combine flour, baking soda and salt, and stir into creamed mixture. Stir in pecans and chocolate chips. Using a 2-ounce scoop, place leveled scoops 2 inches apart on an ungreased cookie sheet. Flatten out each scoop slightly so that cookie is not too tall once it is baked. Bake for 15-18 minutes or until centers are set and very lightly browned. Cool 2-3 minutes before removing from baking sheets. Cool completely before filling. To fill, take 2 cookies that are the same size in diameter, and place one upside down on a piece of plastic wrap. Place a 2-ounce scoop of ice cream on one, and place the other cookie on top of the ice cream. Press down firmly until ice cream is coming out of sides of cookie and it is of desired thickness. Remove any excess ice cream with a butter knife and wrap tightly in plastic wrap. Place in freezer until firm or eat immediately. If keeping in freezer for later use, let stand at room temperature for about 3-5 minutes to soften cookie before serving. Any soft cookie recipe and any flavor ice cream can be substituted to make this kid-friendly summer treat.