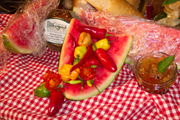 Comment:
When eating watermelon, most people throw away the rind. After trying this chutney recipe, you will never again discard the rind as something inedible.
Ingredients:
1 (8-pound) piece watermelon, flesh and rind
1½ cups cider vinegar
1½ cups water
2 cups sugar
¼ cup fresh ginger, minced and peeled
2 tbsps minced cayenne peppers, with seeds
1½ tbsps minced garlic
1 tsp salt
½ tsp crushed black peppercorns

Method:
Remove watermelon flesh from rind. Scrape off and discard any remaining pink flesh from rind. Cut rind crosswise into 2-inch wide strips. Using a sharp knife, remove green peel and discard. Cut white rind into ½-inch cubes. In a 4-quart saucepan, combine rind, cider vinegar, water, sugar, ginger, cayenne peppers, garlic, salt and black pepper. Bring to a boil, and stir until sugar dissolves. Simmer 45–55 minutes or until rind is tender and translucent and liquid is syrupy. Cool chutney and chill in airtight container for 1–3 days to allow flavors to mellow.