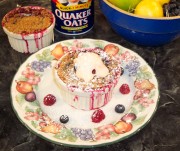 Comment:
This magnificent dessert is filled with fresh apples, blueberries and raspberries to create a unique flavor.
Ingredients:
1 Granny Smith apple, peeled, cored and thinly sliced
1½ cups blueberries
1½ cups raspberries
2 tbsps fresh lemon juice
2 tbsps sugar
2 tbsps apple juice concentrate
½ tsp cinnamon
1 cup quick cooking oats
1 cup light brown sugar, lightly packed
½ cup flour
¼ tsp ground ginger
¼ tsp salt
1 stick and 3 tbsps cold unsalted butter, cut into small pieces

Method: Preheat oven to 375°F. In a medium mixing bowl, toss apples, lemon juice, sugar, apple juice concentrate and ¼ teaspoon of cinnamon. Layer bottom of 4 (1-cup) ramekins with apple mixture. Reserve liquid. Add berries to reserved liquid and toss. Distribute berry mixture evenly among ramekins. Drizzle with remaining liquid. In large mixing bowl, combine oats, brown sugar, flour, ginger, salt and remaining cinnamon. Mix well and cut butter into mixture until crumbly. Spoon crumble mixture over berries. Set ramekins on baking sheet. Bake 30 minutes or until fruit is bubbling and topping is golden brown. Cool on wire rack for 30 minutes. Serve with yogurt.