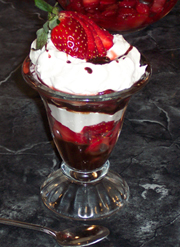 Comment: This dish is traditionally prepared by steeping fresh strawberries in orange liqueur then folding them into whipped cream. We've modified the recipe slightly using Louisiana strawberry wine and, as always, fresh Ponchatoula strawberries to make a perfect Valentine's Day dessert that anyone can easily prepare.
Ingredients:
1 pint fresh Louisiana strawberries, cleaned and sliced
1 container pre-made whipped cream, or 1 pint heavy cream whipped to soft peaks
¼ cup sugar
1 ounce Louisiana strawberry wine
1 bottle chocolate sauce
Method:
Place sliced strawberries in a bowl with sugar and wine and toss gently to coat. Cover and refrigerate for at least one hour, or overnight. When berries are done, place whipped cream in a bowl. Spoon out ½ cup of juice from berry mixture and fold into whipped cream. Place some chocolate syrup in the bottom of a parfait, wine or martini glass. Top with a spoon of the berries. Next, put a spoonful of flavored whipped cream. Continue to layer in this order until glass is full. Garnish with plain whipped cream, fresh mint and a fanned strawberry.