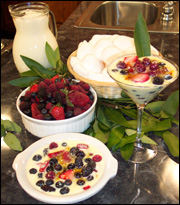 COMMENT:
From April throughout the summer months, it is very easy to find fresh berries from strawberries to wild mulberries. We have enrobed these sweet, bountiful berries in a luxurious custard flavored with the delicate essence of bay leaves.
INGREDIENTS:
5 large egg yolks
½ cup granulated sugar
2 cups heavy cream
1 tsp vanilla
pinch of nutmeg

2-3 fresh bay leaves, not dried
6 cups mixed fresh berries such as strawberries, raspberries, blueberries, blackberries or wild mulberries

METHOD:
Beat egg yolks and sugar in a bowl with an electric mixer until thick and pale, about 3 minutes. Transfer yolk mixture to a 2-3 quart heavy saucepan and stir in cream, vanilla, nutmeg and bay leaves. Cook over moderately low heat, stirring constantly with a wooden spoon, until mixture is thick enough to coat back of spoon and registers 175 degrees F on an instant read thermometer, about 8-10 minutes. Do not boil! Remove from heat and cool custard to room temperature in pan, stirring frequently to prevent skin from forming, about 1 hour. Discard bay leaves and serve custard over berries in a martini glass with bay leaf for garnish.