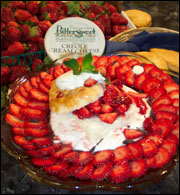 Comment:
During strawberry season in Louisiana, trucks selling the sweet berries line the roads. Here, the fresh produce is combined with our Creole cream cheese to create the most famous and most loved strawberry dish.
Ingredients for Strawberries:
1 quart strawberries, sliced lengthwise
½ cup sugar, or to taste
1 ounce strawberry wine
Method:
Preheat oven to 425°F. In a medium mixing bowl, combine strawberries, sugar and wine. Mash with a potato masher or fork just until strawberries release their juices. Be careful not to mash to a pulp.
Ingredients for Whipped Cream:
1 (11.5-ounce) package Bittersweet Plantation Dairy Creole Cream Cheese
2 cups heavy whipping cream
½ tsp nutmeg
½ tsp cinnamon
¾ cup sugar
Method:
In an electric mixer, combine Creole cream cheese, cream, nutmeg and cinnamon. Whisk on medium-high speed until mixture starts to slightly thicken. Slowly add sugar and beat until very soft peaks form. Be careful to avoid creating a stiff whipped cream. Set aside.
Ingredients for Cream Biscuits:
2 cups flour
1 tbsp double-acting baking powder
3 tbsps sugar, or to taste
½ tsp salt
1½ cups heavy whipping cream
whole milk (for brushing tops of biscuits)
Method:
In a large mixing bowl, sift together flour, baking powder, sugar and salt. Slowly add cream and stir mixture until it just forms a dough. Gather dough into a ball and turn onto a lightly-floured surface. Roll or pat dough ½-inch thick. Using a 2½-inch cutter, cut out as many rounds as possible and transfer them to an ungreased baking sheet. NOTE: A 4-inch or 1-inch cutter may be substituted. Gather scraps, roll dough and cut out more rounds until all dough has been used. Brush tops of biscuits lightly with milk. Bake 15 minutes or until golden brown. Transfer biscuits to a rack and let cool 5 minutes. Split biscuits horizontally with a fork, arrange bottom halves on plates, and spoon strawberry mixture over them. Top strawberry mixture with whipped cream and arrange biscuit tops on cream. Serve remaining cream separately.