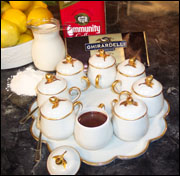 COMMENT:
If you are a chocoholic, then this is the perfect recipe for you. The bittersweet chocolate and brewed coffee lend a slightly bitter richness to this traditional French dessert.
INGREDIENTS:
2 cups heavy cream

1/3 cup sugar

6 egg yolks

1 vanilla bean, split

12 ounces bittersweet chocolate, cut into 1/4-inch pieces

1/2 cup very strong, prepared espresso coffee

8 pots de crème cups (4-5 ounces each)

METHOD:
In a medium saucepan, bring the cream and sugar to a rolling boil with the vanilla bean. In a large mixing bowl, whisk yolks. Add about a third of the boiling cream into the yolks and whisk again. Return remaining cream to a boil and whisk in yolk mixture. Continue to cook, whisking constantly, another 15-20 seconds until slightly thickened. Strain cream into a bowl and add chocolate. Whisk cream smooth, then whisk in coffee, and pour into cups. Refrigerate until cooled. For advance preparation, cover the pots de crème with plastic wrap and refrigerate. Uncover and leave at room temperature for 1 hour before serving. You can use small ramekins if pots de crème cups are not available.