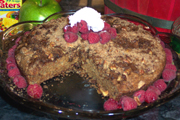 Comment:
For the best results when baking with margarine, be sure you select a brand that contains at least 60% vegetable oil.
Ingredients for cake:

1½ cups finely chopped, peeled apples (2 small)
nonstick spray coating
2/3 cup all purpose flour
½ cup whole wheat flour
1 tsp baking soda
1 tsp ground cinnamon
¼ tsp salt
¼ cup frozen egg product, thawed
¾ cup granulated sugar
¼ cup chopped pecans
¼ cup applesauce
Method:
Preheat oven to 350ºF. Spray a 9-inch round baking pan with nonstick coating and set aside. In a small bowl stir together all-purpose flour, wheat flour, baking soda, cinnamon, and salt. In a separate bowl, combine apples and egg product. Stir in sugar, pecans, and applesauce. Add dry ingredients to apple mixture. Pour batter into prepared pan.
Ingredients for topping:
¼ cup packed brown sugar
1 tbsp all-purpose flour
1 tbsp whole wheat flour
½ tsp ground cinnamon
1 tbsp margarine
¼ cup chopped pecans
Method:
For topping, stir together brown sugar, all-purpose flour, wheat flour, and cinnamon. Cut in the margarine. Stir in pecans. Sprinkle topping over batter in pan. Bake 30-35 minutes or until a wooden toothpick inserted near center comes out clean. Cool in pan for 10 minutes. Remove from pan and serve warm.
Nutritional Information:
202 calories, 5 g fat (1 g saturated fat), 0 mg cholesterol, 207 mg sodium, 37 g carbohydrates, 2 g fiber, 3 g protein