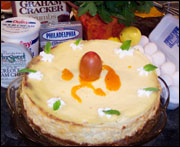 COMMENT:
Fall is fast approaching, and persimmons are coming into season. We have combined this vibrant, sweet fruit with our Bittersweet Plantation Dairy Creole cream cheese to create this luscious dessert.
INGREDIENTS FOR CRUST:
1½ cups graham cracker crumbs
¼ cups sugar
4 tbsps melted butter
METHOD FOR CRUST:
Combine graham cracker crumbs and sugar. Drizzle melted butter into the mixture to moisten. Using your fingertips, press the graham cracker mixture into the bottom of a 10-inch round spring form pan. Place the pan in the refrigerator for 30 minutes or until crust is firm to the touch.
INGREDIENTS FOR CHEESECAKE:
1 cup persimmons, skinned and puréed
2 (11.5-ounce) packages Bittersweet Plantation Dairy Creole Cream Cheese
3 (8-ounce) packages Philadelphia cream cheese
3 whole eggs
1½ cups sugar
1 pinch nutmeg
2 tbsps vanilla
1 tbsp lemon juice
2 tbsps lemon zest
INGREDIENTS FOR TOPPING:
1 pound sour cream
2 tbsps vanilla
½ cup sugar
3 tbsps persimmons, skinned and puréed
METHOD:
Preheat oven to 350°F and test with an oven thermometer for accuracy. Soften Philadelphia cream cheese to room temperature and place in the bowl of an electric mixer along with Creole cream cheese, sugar, nutmeg, vanilla, lemon juice and zest. Blend on medium-high speed until all lumps are removed. Turn mixer speed down to lowest setting and add 1 egg at a time, whipping completely between each addition. Continue until eggs are incorporated. Do not over-whip. Remove crust from the refrigerator and fill with batter. Add spoonfuls of persimmon purée around the top of the batter in a polka dot pattern. With a toothpick or metal skewer, make a swirling pattern through the persimmon pulp to create the desired effect in the finished product. Place on middle shelf of oven and bake for 1 hour. NOTE: The cake should be slightly browned around the edges and may appear to be a little under cooked in the center. Remove from oven and allow cake to rest 15–20 minutes. Turn oven temperature up to 400°F. While cooling, if the cake develops a crack or two in the center do not panic it will be filled with the sour cream topping. While cake is cooling blend sour cream, sugar, vanilla and persimmon pulp into a mixing bowl and whip thoroughly until the sour cream is ready to pour. Pour the sour cream evenly over the top of the cake and place in oven for 5–7 minutes. Remove and when cool, cover with clear wrap and refrigerate 5–6 hours or preferably overnight.