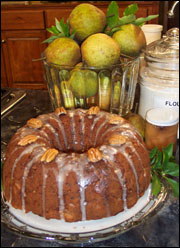 COMMENT:
This recipe uses the jarred pears from the Spiced Pear recipe done on WAFB on August 21, 2003. This soft, moist cake uses the wonderfully spiced fruit and syrup you have already created. When you need a great treat for a party or to bring to the game, pull down a couple of jars of spiced pears and whip up this simple, tasty cake.
INGREDIENTS:
4 cups Spiced Pears for Canning

1-1/2 cups white sugar

4 egg whites

2/3 cup vegetable oil

1 cup chopped pecans

3 cups sifted flour

1 tsp salt

1-1/2 tsps baking soda

1/2 tsp ground nutmeg

1 tsp ground cinnamon

1/4 tsp ground cloves

2 cups powdered sugar

1/4 cup reserved spiced pears syrup

METHOD:
Drain jars of pears, reserve syrup and dice the fruit. Preheat oven to 325°F. In a large mixing bowl, combine pears and sugar and let stand for 20-30 minutes. Coat a 10-inch Bundt pan with non-stick cooking spray. In a large mixing bowl, beat egg whites with a hand mixer until white and frothy, but do not allow peaks to form. Fold oil, pecans and pear mixture into egg whites. In a separate large mixing bowl, stir together the flour, salt, baking soda, nutmeg, cinnamon and cloves. Stir in the pear mixture slowly until flour is completely moistened. Do not over-work batter. Pour batter into the prepared Bundt pan and bake for 1 hour and 10 minutes. Remove from oven and let cool on a wire rack for 10 minutes before removing from pan. In a small mixing bowl, whisk together powdered sugar and pear syrup until smooth. Pour glaze over cooled cake before cutting.