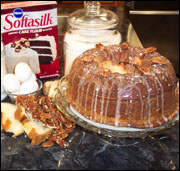 COMMENT:
Many different dessert recipes call for sour cream. There are sour cream coffee cakes, muffins and pound cakes. We have taken one of our favorite sour cream dessert recipes and substituted our Bittersweet Plantation Dairy Creole Cream Cheese in the place of the sour cream to make this delicious Creole Pecan Pound cake.
INGREDIENTS:
1/4 cup chopped pecans

3 cups cake flour

1/2 tsp salt

1/4 tsp baking soda

1 cup unsalted butter

3 cups white sugar

6 eggs

1 tsp vanilla extract

1 cup Bittersweet Plantation Dairy Creole Cream Cheese

1/3 cup all-purpose flour

1/2 cup packed brown sugar

2 tbsps melted butter

1 tsp ground cinnamon

METHOD:
Preheat oven to 300°F. Grease and flour a 10-inch bundt or tube pan. Sprinkle pecans on the bottom of the pan and set aside. Sift together flour, salt, and baking soda in a medium bowl and set aside. In a large bowl, cream butter and white sugar until light and fluffy. Beat in eggs 1 at a time, and then stir in the vanilla. Add flour mixture alternately with Creole cream cheese. Pour half of the batter over pecans in prepared pan. In a small mixing bowl, add 1/3 cup flour, brown sugar and cinnamon and mix well. Cut in butter until mixture resembles coarse meal. Sprinkle mixture over batter in the bundt pan and add remaining batter over cinnamon sugar mixture. Bake for 75–90 minutes or until a toothpick inserted into the center of the cake comes out clean. Let cool in pan for 20 minutes, then turn onto a wire rack and cool completely.