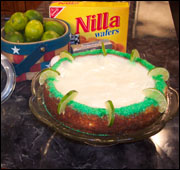 COMMENT:
Everyone loves cold margaritas out by the grill on a hot Fourth of July afternoon. In this recipe we have combined the great citrus flavor of margaritas with the creamy richness of everyone's favorite dessert—cheesecake!
INGREDIENTS:
1¼ cups vanilla wafer cookie crumbs

¼ cup butter, melted

3 (8-ounce) packages cream cheese, softened

1 cup sour cream

1 cup sugar

3 tbsps Triple Sec

3 tbsps tequila

3 tbsps fresh lime juice

2 tsps grated lime zest

4 large eggs

1 cup sour cream

¼ cup sugar

1 tbsp fresh lime juice

METHOD:
Preheat oven to 350 degrees F. Mix cookie crumbs and butter in a medium mixing bowl until well blended. Press mixture onto bottom of a 9-inch springform pan. Refrigerate while making filling. Using an electric mixer, beat cream cheese in large bowl until fluffy. Add 1 cup sour cream, 1 cup sugar, Triple Sec, Tequila, lime juice and lime peel and beat until well blended. Add eggs 1 at a time, beating just until blended after each addition. Pour filling into crust. Bake for 50 minutes or until center is just set. In a mixing bowl, mix 1 cup sour cream, ¼ cup sugar and 1 tbsp lime juice in small bowl. Pour over cheesecake. Using spatula, smooth top and bake for 5 minutes longer. Transfer pan to a rack and cool at room temperature completely. Refrigerate until well chilled, at least 4 hours or overnight. Run knife around pan sides to loosen cake. Remove pan sides. Garnish cake with lime twists, grated lime peel and whipped topping.