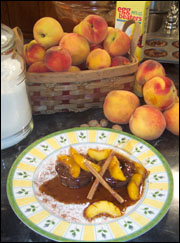 COMMENT:
Chocolate lava cakes or molten chocolate cakes are found on many dessert menus around the country. However, only Louisiana chefs can top them with the sweet Ruston peach. We have flavored the peaches with four different spices to top these ooey gooey little chocolate cakes.
INGREDIENTS FOR CAKES:
3/4 cup butter, cut into pieces

3 (4-ounce) bars premium semisweet chocolate, broken into chunks

1/2 cup whipping cream

1-1/4 cup egg substitute

3/4 cup sugar

2/3 cup flour

powdered sugar

METHOD FOR CAKES:
Spray 16 muffin cups with vegetable oil spray. Place butter and chocolate in a heavy-bottomed saucepan. Cook over low heat, stirring often, until butter and chocolate melt. Slowly whisk in cream; set aside. Combine egg substitute and sugar in a large mixing bowl. Beat at medium speed with an electric mixer for 5-7 minutes or until slightly thickened. Add chocolate cream and flour, beating until just blended. Pour batter into muffin cups, filling to within 1/4-inch from the tops. Cover and chill at least 1 hour or up to 24 hours. Bake at 450 degrees F for 10-11 minutes or just until edges of cakes spring back when lightly touched but centers are still soft. Let stand 3 minutes before loosening the edges with a knife. Quickly invert cakes onto a baking sheet or clean surface. Transfer to dessert plates using a spatula. Sprinkle with powdered sugar. Serve immediately.
INGREDIENTS FOR SPICED RUSTON PEACHES:
8 fresh Ruston peaches
1/2 cup butter

1 cup brown sugar

1/2 tsp cinnamon

1/2 tsp ground cloves

1/4 tsp nutmeg

1/4 tsp allspice

4 ounces peach liqueur or white wine

METHOD FOR SPICED RUSTON PEACHES:
Cut peaches in half and remove pit. Slice each half into thick slices, about 4 slices per half. In a 10-inch sauté pan, melt butter over medium-high heat. Add peaches and sauté until tender, about 2-4 minutes. Add brown sugar and spices. Stir until brown sugar is melted and creates a smooth sauce with the butter. Remove skillet from heat, pour in liqueur, and return to heat. NOTE: Be extremely careful, as liqueur with flame up when placed back onto the fire; however, it will extinguish itself quickly. Heat for 2 additional minutes. Serve over Chocolate Lava Cakes.