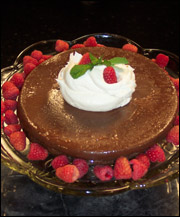 COMMENT:
The rich and creamy texture of this cake is sinful without all of the fat that usually accompanies a dessert of this kind. Topped with nonfat caramel, pecans and fat free whipped topping, it is to die for.
INGREDIENTS:
2 (14 ounce) cans fat free sweetened condensed milk
egg substitute equivalent to 5 eggs
½ cup skim milk
½ cup sugar
¼ cup unsweetened cocoa powder
¼ cup nonfat chocolate syrup
METHOD:
In a small saucepan, place 1 can of condensed milk, label removed, and cover with water. Boil for 4 hours in the can, replacing any water that evaporates out. This must be done often so as not to create a dangerous situation. When the 4 hours are up, let cool to room temperature before opening the can to reveal a rich caramel sauce. While the caramel is boiling, preheat oven to 350 degrees F. Spray an 8-inch nonstick round cake pan with vegetable oil spray. Cut a circle of parchment paper to fit the bottom of the pan. In a large bowl, whisk together 1 can condensed milk, egg substitute, milk, sugar, cocoa and chocolate syrup. Pour into prepared pan. Place the pan in the middle of a larger baking pan and fill baking pan with 1 inch of water. Bake for 40-45 minutes or until a toothpick inserted in the center of cake comes out clean. Remove cake pan from water and let cool on a wire rack for 10 minutes. Carefully invert onto a plate and remove paper. Let cool for 15 minutes. Top the cake with drizzles of the fat-free caramel sauce, nonfat whipped topping and pecan halves or pieces to create this wonderful Turtle Custard Cake.