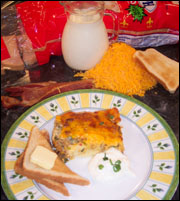 COMMENT:
This dish is a cross between an omelette and a casserole. It is filled to the rim with seasoned breakfast sausage, smoky bacon and melted cheese. Make it after dinner, put it in the refrigerator overnight and pop it in the oven in the morning for a complete and warming breakfast dish that the kids will love.
INGREDIENTS:
1 pound pork breakfast sausage

½ cup cooked and crumbled bacon

10 slices white sandwich bread, cubed

¼ cup sliced green onions

2 cups shredded Cheddar cheese

9 eggs

3 cups milk

1½ tsps salt

1½ tsps dry mustard

½ tsp Worcestershire sauce

METHOD:
Brown sausage in a skillet over medium heat, stirring until it crumbles and is no longer pink. Drain well. Place bread cubes in a lightly greased 13" x 9" baking dish. Sprinkle sausage, bacon, green onions and cheese evenly over bread cubes. In a large mixing bowl, whisk together eggs, milk, salt, dry mustard and Worcestershire sauce. Pour evenly into the baking dish. Cover and chill for 8 hours. Let casserole sit at room temperature for 30 minutes. Preheat oven to 350°F. Bake the casserole for 45 minutes or until set. Cool for 5 minutes before serving.
Note: Leftover casserole can be frozen for later use. Cut the casserole into squares and wrap in plastic before freezing. When ready to use, thaw squares and reheat in the microwave for 2-3 minutes or until heated thoroughly.